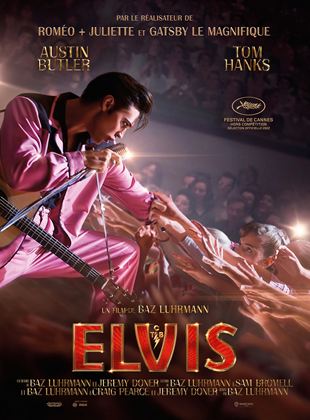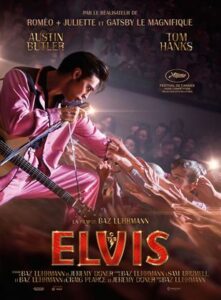 Birth, growth, apotheosis and beginning of decline of Elvis Aaron Presley, the myth of several generations, are told and reread from the point of view of his lifelong manager: Colonel Tom Parker. It is he who accompanies, with a narrative voice and presence on stage, the disruptive rise of an absolute icon of music and costume while he undertakes, openly but also in secrecy, to condition his life with the aim of safeguarding his own.
Baz Luhrmann from a young age living in New South Wales in Australia had the desire to meet Elvis. Presley. His death had made that dream impossible. Cinema has now allowed him to make it transposed into reality.
If there had been no need for immediate recognition and communicative synthesis, this film could easily have been titled "Elvis, me and you". Because the narrative point of view right from the start is that of a mystifier par excellence, that Andreas Cornelis van Kuijk who claimed to be American and called himself Tom Parker. He is the man who will affect Elvis's life even in a very heavy way but who will not renounce, during the film, to call an accomplice and, in some cases, to run the public that is those who loved and adored "The Pelvis" .
It is in the intertwining of these three dramatis personae that the split screen of a life develops with which Luhrmann's cinema reaches its highest point, creating an appointment that his style could not escape from. Because his making a show of what already in itself has all the elements of entertainment reaches its maximum power here, freeing itself from the cage of mannerism. It is the very life of the star, who over the decades keeps his charisma intact, who offered him the visual score that goes on to decline using all the technology currently available but never having even a single shot as an end in itself.
All this thanks to two interpretations that to define masterful is an understatement. Tom Hanks was believed to know everything from the point of view of the professional repertoire but his Colonel Parker adds a milestone to his filmography. Observe him when, wearing the garments of his generous putative father on his overflowing body, he looks from below up on what he believes to be his always manipulable creature. In his eyes, more than in the expression of his mouth, we can read all the malice of those gnomes who in some fairy tales are only apparently on the side of Good.
But it's 31-year-old Austin Butler who is the big surprise. With a not overwhelming filmography behind him he manages to beat the still valid Rami Malek of Bohemian Rhapsody and Taron Egerton of Rocketman. The reason? Butler doesn't play Elvis. It's Elvis. Those who will also have the opportunity to see the original version will be able to verify it sequence after sequence, vocal inflection after vocal inflection. His is a total adherence to the person and to the character thus allowing Luhrmann not only to narrate his professional career but also to read it on an even more complex historical and social level.

Server 1
Server 2
Server 3