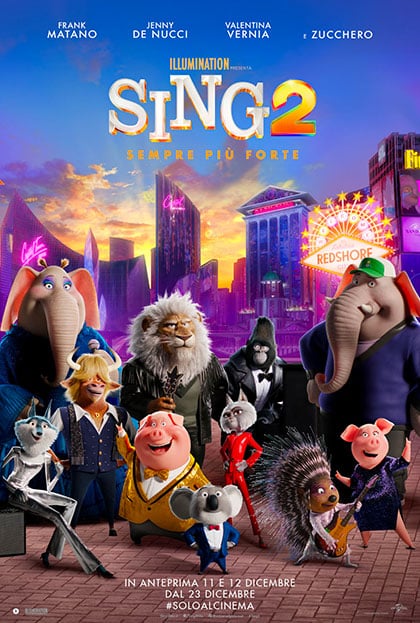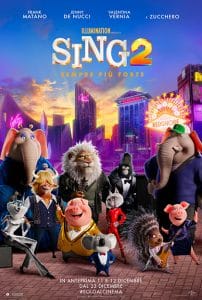 Buster Moon believes in his work group, he has no doubts that Rosita, the pig full of children, can be the protagonist of a great musical, nor that Gunter, the Nordic pig, can invent a show worthy of Jimmy Crystal. Yes, because it is to Redshore City, the showbusiness capital, that Moon wants to go, to convince the famous producer that he would do well to bet on them. It matters little if he has to invent a ruse to get in front of him. And maybe hire his little-gifted daughter Porscha. And even undertake to bring back to the stage a myth of music that has not been seen for fifteen long years: Clay Calloway.
There are various ways of conceiving a sequel from a narrative point of view. Being a show and singing competition, Sing 2 rightly chooses to ride the theme, aiming higher.
No longer the provincial theater, therefore, where Moon and his team proved to be absolute champions, but "the big city", where they are nothing but provincials, with no look and no experience, forced to have to demonstrate anew. to be able to do it, to have what it takes to impress an audience a thousand times wider and more demanding.
In short, our folks have to go through an audition once again, but Mr Crystal is the complete opposite of the kind and understanding Moon. The parade of the aspiring and excluded is one of the most beautiful and entertaining sequences of the film, crowned by the sumptuous choreography of flamingos, worthy of the MGM of the golden days. But beyond the fun, the sequence in question does more: it raises the bar. Ours will certainly not be able to wear the smiling daisies of their "Alice in Wonderland". They will have to do better. Illumination Entertainment will have to do better. Aim higher, in fact.
It is no mystery that they will succeed, but what matters is how. Because it will also be predictable (or rather, coded) but Sing 2 is also excellently written. The show is built on the emotions of the characters, on their present, and on the basis of a conception of artistic work that never renounces the transparency and enhancement of what everyone does best. For this, in the end, Porsha's number turns out to be the most beautiful and vibrant of all, with the unsuspected help of an endless team of tiny night workers.

Server 1
Server 2
Server 3