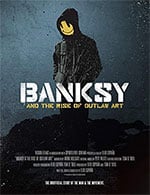 Everyone knows Banksy. And many love it. It is so well known that the term "the Banksy effect" has now become a common saying. The "Banksy effect" has been depopulated for years and continues to expand. The English street artist is in fact a heritage of collective culture and popular imagination as a pop star, or as a politician. Banksy. The art of rebellion, the film directed by Elio España, is proof that there is always something to tell about this figure, which is no longer so mysterious.
Unlike other films such as Exit through the gift shop, directed by the artist himself, but which remains an escamotage to narrate another provocateur such as Mr. Brainwash with his dubious works, or the Italian The man who stole Banksy from Last year's Marco Proserpio, who focuses on the work "stolen" from a wall – now very famous – in Palestine, Banksy – The art of rebellion tries to delve deeper into the figure of the graffiti artist.
The documentary in fact uses the artist from Bristol to develop a synthesis on the history of England through some socio-political-cultural cornerstones. From the alarming street movements of 1979, where young people carried out a revolution against Margaret Tatcher's bigotry and behavioral chains, to the birth of the various underground subcultures that peeped from the discos and English clubs where punk music began to be heard, and then the techno one together with the various chemical experiments related to acids and LSD, up to the outbreak of the fashions accredited by the public and the mass. And Banksy was there, keen observer and ironic litmus test.
Born in the late seventies, raised in the eighties and, through his first actions with the best-known graffiti crews of the English suburbs – Bristol, his city, he will always remain the main matrix -, active since the late nineties, Banksy has it gradually becomes known with a simple gesture: to join the generic imagination with a clear and simple message that can be understood by everyone.
With a recognizable stylistic skill: he was the most talented in painting "free hand", freehand, at speed. Street art is no longer hidden among the trains where you risk your life to paint, or on the most secret walls of the darkettone streets of post-industrial London, but is moved to the center, at the mercy of everyone. Banksy, as active witnesses of the English graffiti world tell, including the mythical Eine – that of the colorful "letterone" circus on the streets of London -, Alan Ketz, Scape Martinez, up to his manager Steve Lazarides, has a rapid evolution both in street art, whose rules it subverts a little, and in the art market.

Server 1
Server 2
Server 3