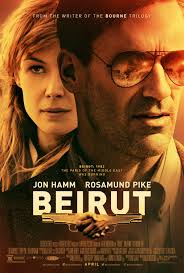 "If you stop talking, you start shooting". Says well, the diplomat Mason Skiles (Jon Hamm), in the first minutes of Beirut, referring to the political situation in the Middle East. Of course: Lebanon at that time is not yet torn apart by a civil war and Beirut is unanimously considered "the Paris of the East". But what is about to happen, in those seventies destined to enter into the history of all the Lebanese and in the story for Skiles' fiction, is exactly the realization of his prophecy.
Shot by Brad Anderson and written by the creator of Bourne's saga Tony Gilroy in 1991 (but it took the success of a film like Argo to convince investors to believe in the project), Beirut is the story of the fall and return to life of a former American diplomat, Mason Skiles, against the backdrop of the civil war in Lebanon.
We immediately know Skiles, who in '72 is on a mission to Beirut, as a realized man: a fine diplomat, he loves Lebanon, his wife Nadia (Leila Bekhti) and the Palestinian child, Karim (Yoav Sadian Rosenberg), whom the couple would like to adopt . Too bad that boy hides a very dangerous secret: his big brother is the terrorist Abu Rajal (Hicham Ouraqa), involved in the attack in Monaco. He decided to snatch the little brother from the hands of the two Americans. At any cost. When we meet Skiles again, ten years later in Boston, we are faced with a different man. His family is gone, Lebanon is a memory made opaque by alcohol, career is the last of his problems. Suddenly, however, here comes an offer that you never expected: the CIA wants you back to Lebanon, to act as a mediator in a negotiation with the Militia of Islamic Liberation. The terrorists took his old friend, the secret agent Cal (Mark Pellegrino) hostage, and they would like to exchange him with a prisoner, Abu Rajal. The terrorist who is conducting the operation has explicitly asked Skiles as a mediator. That terrorist is Karim.

Server 1
Server 2
Server 3