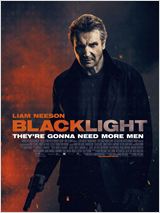 The political activist Sofia Flores has great success in her speech in front of the Capitol, but the same evening she loses her life, the victim of an assassination. This prompts FBI agent Dusty Crane to rebel, going underground and contacting reporter Mira Jones. Federal director Gabriel Robinson puts his best man on his trail, a former veteran he met in Vietnam and who specializes in getting agents out of dangerous situations. We are talking about Travis Block, who has now become a grandfather for a few years and would like first of all to regain his daughter's affection and be close to his granddaughter…
Once again Old Man Action Hero, Liam Neeson recites a script without flashes in autopilot, in a film where only a car chase scene is saved.
Yet another operation in the wake of Taken has not had any luck this time and at the American box office it was a small flop. With us, in fact, Blacklight arrives directly on TV, which is its natural habitat. Unlike the Taken, here Neeson is a less resolute figure and his enemies are no longer ethnically characterized, we are instead in pure "woke" territory, where the white hero and boomer must face a crisis of conscience and realize the mistakes of his past , while the more positive character is the young black journalist, with whom any romantic tension is categorically avoided.
In line with the spirit of the time there is also the Latin ethnicity of Sofia Flores: essentially an alter ego of Alexandria Ocasio-Cortez. Beyond registering the update of sensitivity even in productions aimed at a certainly not young audience, there isn't much else left to detect on such a standardized film.
That the FBI director is at the head of a conspiracy will certainly not surprise anyone, just as the scenes between Neeson and his granddaughter are cloying and predictable. We try to add a little irony by focusing on the protagonist's paranoid exaggerations, which however turn out to be – again without any surprise – correct. Furthermore, the comic line is barely hinted at in a couple of dialogues and immediately abandoned in favor of the seriousness of a laughable conspiracy, which is discovered by the journalist without major problems and which the old hero is destined to hinder in order to redeem himself from her faults. There is not even a lack of sacrificial victim to give him the last push to see the light.
In films like Blacklight the plot and the characters only matter up to a point anyway, but the action scenes that should be the strong point don't fare much better. The melee choreographies are banally and sadly broken by a thousand editing cuts and the shootings fall into the usual clichés, resulting in no tension at all and without any ingenuity of staging.

Server 1
Server 2
Server 3