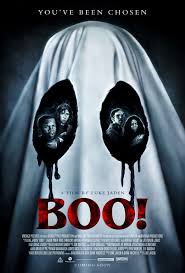 Amidst the costumes, candy, decorations and Global Marketing of Halloween, we often forget its dark origins. Rooted Origins, The Return of the spirits of the dead and rituals . These rituals have changed over the centuries, but they still exist and must be ignored at your own peril. A family finds that out in BOO!
This family refuses to listen to the warning of an innocent joke and is overwhelmed by an unknown supernatural force that causes chaos.
The family gets a piece of paper with a ghost. The patriarch of the family helps them. They don't take this curse seriously.
Elyse is an alcoholic addicted to pills, caleb is attracted to strange images, and James is obsessed with the Bible. Morgan has suicidal thoughts due to relationship issues. Only until the last twenty minutes or less, that any tension or suspense is built up. Stronger consolidation is needed to maintain the audience.

Server 1
Server 2
Server 3