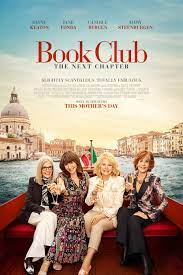 Diane, Vivian, Sharon and Carol have struggled through the lockdown supporting each other through Zoom connections, but as soon as the travel ban is lifted, the four friends decide to leave together for a trip to Italy. And not just any trip, but Vivian's bachelorette party, who decided to accept Arthur's marriage proposal: she, who had stubbornly wanted to remain single all her life.
The journey will cross the typical stages of American tourism in the Bel Paese – Rome, Venice, Florence and Chiantishire – under the banner of good wine, magnificent locations and encounters with the local male fauna, including a retired philosophy professor and a surly police commissioner. Diane and Carol's companions will also follow the quartet's (mis)adventures away from home. It remains to be seen how this bachelorette party will end with four women over 70 as protagonists who have kept the enthusiasm and vitality of four young girls.
Book Club – The next chapter is the sequel to that Book Club which in 2018 saw the formation of a quartet of excellent actresses – Jane Fonda, Diane Keaton, Candice Bergen and Marty Steenburgen – and which intends to demonstrate how box office success can be achieved even in old age.
And it's nice to see four thoroughbred interpreters once again being the absolute protagonists of a story for the cinema: it's a pity that their racing track is really limited, and that instead of a screenplay written to tell old age with fun but also with a certain measure of depth is set aside in favor of a conventional and very uninspired treatment.
In practice, the reference model here is not the ironic intelligence of the series The Kominsky Method, nor even the iconosclastic humor of Grace and Frankie in which Fonda co-stars; it looks more like the film version (therefore the less successful one) of Sex and the City, to the point that in each of the roles of Book Club: The Next Chapter it seems to trace its archetype: Sharon as Samantha, Carol as Charlotte, Diane as Miranda ( though Keaton's "adorably kooky" personality takes over) and Vivian as Carrie. The clothes by Stefano De Nardis are equally sumptuous (even if the designer shoes prefer the comfort of 12 heels), the luxurious environments are enhanced (from a Hollywood point of view) by a team made up of Saverio Sammali, Eugenio Ulissi and Chiara Balducci.
But here another problem arises for the Italian public, and which sadly seems to justify certain promotional campaigns of Italian tourism: the Italy that can be seen is once again a postcard nation full of embarrassing stereotypes: thieving porters, men gallant, servile hotel maids, a soundtrack made up of those dated songs that still characterize us abroad (with some rare exceptions, such as "Ciao ciao" by The list representative) and so on. Our country is once again represented as a Disneyland for wealthy American tourists in search of thrills, never as a real place full of less obvious beauties, not to mention authentic problems.

Server 1
Server 2
Server 3