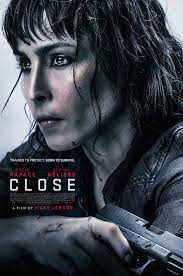 Sam is a bodyguard expert in anti-terrorist actions, we meet her in fact while protecting some journalists from an ambush to their car. Sam is then assigned a new task, protecting the young heiress Zoe, who had gone to bed with the previous bodyguard. His stepmother, who currently runs the family mining company, then replaces Sam with the girl's caretaker, but soon after his arrival, the situation plunges with an ambush to the villa where Zoe lodges. Sam and the girl will find themselves on the run from corrupt murderers and policemen, while the family company faces a crisis of its value on the stock exchange when Zoe is accused of murder.
Freely inspired by the life of the bodyguard Jacquie Davis, Close does not want to be the usual female action and tries to keep a realistic cut even in the most adrenaline moments, but without a direction and a suitable writing the result appears cheap instead of an aesthetic choice.
Noomi Rapace on roles as a tough woman has built her career, but the bodyguard who plays here, flanked by the spoiled young and rich family, lives a contrast too much stereotyped. His character is silent, does not open to confidences and has severe attitudes but always for a good purpose, while the girl is hyperemotive and acting on impulse, but soon learn to respect Sam, who after all ends up being the only person you can trust. The nineteen year old Canadian Sophie Nélisse interprets her, seen a few years in Italy as a protagonist of History of a book thief, and once in a while she likes that the actress's age is close to that of a young person, even if she is forced to to participate in rather strong scenes, such as killings and other things that we prefer not to reveal.
In the role of her stepmother, we find the other most recognizable face of the film, Indira Varma, an English actress of mixed origins (Indian and Italian), from a theatrical and television career, starting from series like Rome and Luther to the global success of the Throne Spade, where he played Ellaria Sand, companion of the public favorite Oberyn Martell. To her, who often played roles of intriguing Machiavellian, touches again an ambiguous part, the main mystery of the film is indeed on the reasons of the aggressors of Zoe and on the identity of their principal. The stepmother seems too obvious a choice, and in fact things are not as they seem, but Varma is skilled in maintaining the ambiguity of his character without revealing his cards too soon.

Server 1
Server 2
Server 3