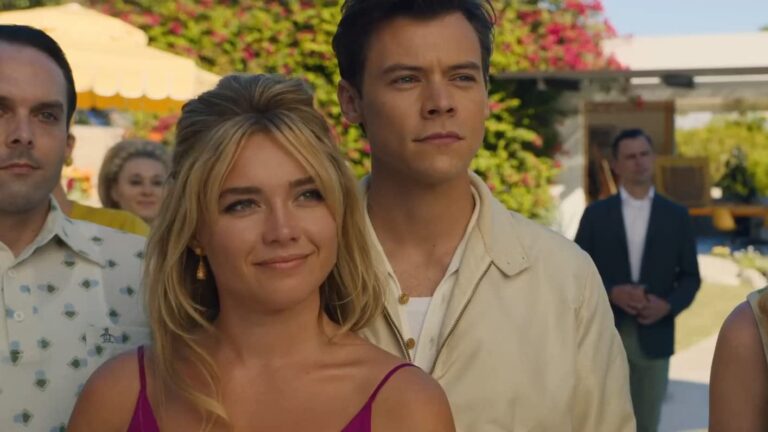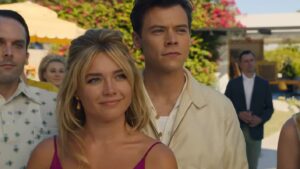 In 1950s America, Alice and Jack are married and beaming. With other happy couples they 'cultivated' the Californian desert and integrated the experimental community of Victory, a charming industrial town that houses the staff employed in a top-secret project. But that perfect place soon turns into a nightmare for Alice, who has broken the harmony by breaking the rules and going beyond the limits granted to her wives. Behind the pop and pastel paradise there is a hell that Alice will try to unmask.
The only way to elude the comfort of conventions, that feeling of familiarity that imposes itself as soon as we deal with the mechanisms of genre cinema, is to multiply the levels of the story, blur the lines between reality and imagination, mix different registers of images. And that's what Olivia Wilde does so well, in her second attempt.
Booksmart (not to mention the ugly Italian title) had revealed its ability to interrogate the teen movie up to distorting its codes. Don't Worry, Darling follows the path by combining the typical vicissitudes of American romantic comedy with a bath of images, notes and sensations that are deeper and wider than those imposed by the rhetoric of the genre. Genres, because the smile soon fades into a grin and leads the film into sci-fiction, somewhere between the Matrix and The Truman Show. And this time rebelling against the 'reality show' is Florence Pugh, the third daughter of Doctor March (Little Women), a radiant combination of lightness and tragedy.
Don't Worry, Darling debuts in the joy and colors of a company town that turns out to be a trap. A small town awakened every morning by a postcard light, a soft light that 'hurts' because the moral of the film is chilling. However, the rays of the Californian sun infuse hope, opening the 'wide open' eyes of her heroine, a wife dedicated to her husband's well-being.
Violence, like her, is not long in coming, suddenly bursting into a company party and announcing the protagonist's troubles. But that violence is not the denial of her perfect universe of hers, it is an integral part of it.
As in Alice and Jack's night car rides, Olivia Wilde leads the viewer off the road, pushing on the accelerator and towards an artificial bubble that reproduces the real world, the best version of her. Impossible to think of it as hostile and under high surveillance. Nonetheless, progressively, doubt insinuates Alice, a prisoner in 'wonderland'. Through the mirror and under the pastel shades she broods fear and an army of men who 'program' the manual of (their own) happiness and of (their own) ideal bride. The more the protagonist's anguish mounts, the more the register of the film moves imperceptibly away from the simple management of feelings au foyer.

Server 1
Server 2
Server 3