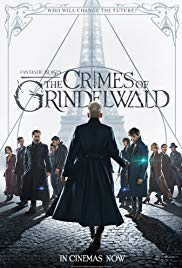 New York, 1927. A few months have passed since the MACUSA captured the perfidious and powerful Grindelwald and, as a threat, the Dark Wizard soon escaped detention, during an aerial sequence that immediately established the characteristics of the visual spectacle that is about to follow: vertiginous, restless and acrobatic. Grindelwald has extreme plans, on the world of magicians and on that of non-magicians, and is directed to gather his followers, fishing in the ranks of the disgruntled by the repressive and violent methods of the Ministry of Magic. But in particular he seeks Credence, the Obscurial miraculously escaped death. Even Newt Scamander, the timid magizoologist, is on the trail of the boy, on behalf of Albus Dumbledore. And of course also the Ministry, and the Auror Tina, with whom Newt has a pending sentimental misunderstanding.
The second film in the Fantastic Animals series is the one in which the links with the universe of the Harry Potter saga are closer and clearer, you go and come from Hogwarts, you can see Dobby, a young McGonagall and above all he enters the scene Dumbledore himself.
Dumbledore is embodied by a fascinating Jude Law that gives him charisma, security, and not least that dose of ambiguity that the old character had left behind, but that we know present in his curriculum and intimately linked to the relationship with Grindelwald.
But this is also the chapter in which we leave behind the time of fable and disengagement: metaphorically sanctions the killing of a child, among the first actions of the evaded villain, while, at a more explicit level, the protagonist is called to choose which side to stay, he would have preferred far to be disinterested in human torments to devote himself with curiosity as a scientist to his animals. It is no longer a time of uncertainty and allusions: that of the Dark Wizard is a Nazi project, of ethnic cleansing, the hope of a regime of terror, draped in black and madness, and all suggests that the road to shoot it down will be long and studded with losses.

Server 1
Server 2
Server 3