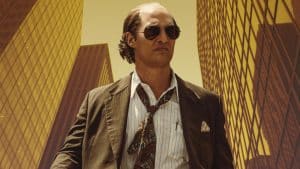 Kenny Wells is the heir to an important mining entrepreneur. In a few years, fortune (thanks to alcohol) goes back and is on the verge of bankruptcy. However, he still succeeds in collecting a sum of money to support Geological Survey Michael Acosta, who seems to have discovered in the uncharted Indonesian jungle one of the largest gold fields in the world. The dollars begin to flow and Wells becomes a wealthy man.
The classic "True story story" accompanying the promotion of this film for once would induce anyone who is unaware of a fact (and immediately clicks on the Internet to find out more) to keep the index up to After watching the movie. Because, with all the changes that are always needed in transposition from the chronicle to the screen, this is a story to be enjoyed from start to finish without any awareness of what's going to happen next.
Already the Italian title reveals too much to the original that with only "Gold" it went straight to the point so that someone who remembers the events goes back to the rest but who, on the other hand, is ignorant, keeps on going to the vision to enjoy the Carried out of the narration.
Gold has always been a powerful magnet capable of attracting masses of inanimate and still today, as the Salgado photos (shown here) have shown us effectively, it is able to set up infernal bolts that unfortunately do not fit in the afterlife . The fever that causes in this case is not that of the chaplinian matrix, but it does raise the mercury column of the stock market involving operators attracted by a mirage that has the outlines of reality. At the center a couple. On the one hand Edgar Ramirez / Michael Acosta has all the characteristics, even physiognomics, of man for which the adventure and the discovery of new territories to explore constitute the meaning of life. On the other hand, Matthew McConaughey / Kenny Wells who, with a potato and beer beer belly for a month and a half, builds one of those borderline characters who so much like an adhesion that draws pleasure from all pores for every Single shot.
The two, with the financial circus that begins to turn around, offer the opportunity for a reflection on how the world of economics not only from today (here we are in the 1980's) is entrusted to 'experienced' wizard apprentices as well as Fantasy Mickey Mouse creates more damage than benefits. You could replace the Shakespearian's 'life' with the word economy and then go on with: 'It's a story narrator of an idiot, full of rage and fury, with no meaning' (Macbeth) without fear of mistaken. One last note: in the movie there is a McConaughey scene with a feline that was shot on the last day of shooting. It is not difficult to understand why.

Server 1
Server 2
Server 3