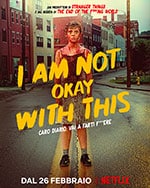 Sydney is a 17 year old girl in love with her friend Dina, who, however, got on with the school football champion. Meanwhile Stanley, an eccentric boy, tries to conquer her between vintage and indie music and car rides. Sydney often quarrels with her mother and has a better relationship with her younger brother, after all, all of them are still traumatized by the suicide of their father in the cellar at home. What everyone ignores is that Sydney has strange telekinetic powers, which she can't control …
Jonathan Entwistle, after the success with The End of the F *** ing World, returns to Netflix with a new series taken from another work by the same independent cartoonist, Charles Forsman, and replicates the short format, the abundant use of music and editing with sudden detachments.
The result is almost a sister series to the previous one, but more winking and much more different from the original comic, which was an anti-naturalistic work in style and decidedly tougher in development and conclusion. The TV version of Am Not Okay with This is instead a series that does not intend to be resolved quickly, directed towards a second season that is already almost safe. Here at Entwistle he then joins as producer Shawn Levy, former director and producer of Stranger Things. The music in fact sometimes refers to the same period of the famous series, also the protagonist is Sophia Lillis, back from the role already fully 80's in It by Stephen King.
King is not surprisingly evoked almost immediately in I Am Not Okay with This, where flashforwards show Sydney in school party dress and smeared with blood that runs through the night, like a sort of short story Carrie, of which he has similar powers. These are completely absent from the comic, to avoid misunderstandings, which move the series to an area that is more Kinghian and closer to Stranger Things, probably with the idea of ​​capturing both today's and yesterday's teenagers taken from nostalgia for music and the atmospheres of the tales and films of their youth.
This "cunning" is however so blatant as to touch the brazen manipulation and the skilful spectator will immediately recognize these gimmicks as such.

Server 1
Server 2
Server 3