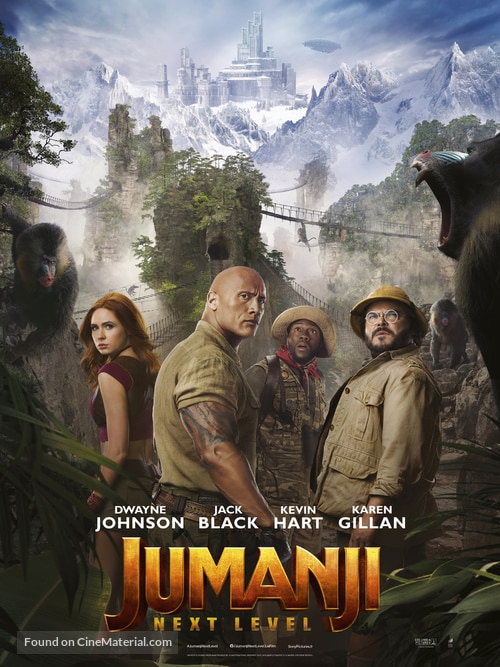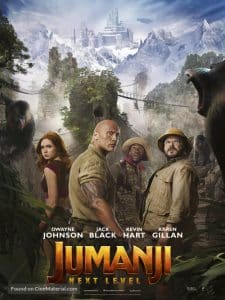 When a guy found himself in The Rock's body, he had incredible adventures and was also with a girl in Karen Gillan's body, how can his life return to normal, asthma and a depressing job in a drugstore? In fact, Spencer is depressed, even though he has returned home for Christmas and is about to see his friends again. His grandfather spurs him on to do something about his life, telling him that as he gets older he will only get worse, and so Spencer looks for an injection of self-confidence in the magical game Jumanji, where things don't go as he hoped. To help him, his friends will join him, but the game is broken and so Spencer's grandfather and his former partner Milo end up trapped there.
Film even more than the previous one for the whole family, with the inclusion of characters in the third age, Jumanji: The Next Level unfortunately lives up to its title and instead of reinventing itself, as the previous chapter had done, it offers only another level of the same game.
Of course, the addition of two actors like Danny DeVito and Danny Glover is always welcome, it also helps to insert explanations about the videogame world in which the characters are located, which will be very useful to those who have not seen the first film, perhaps because it is still too small . To liven things up there is another idea, that of bringing the boys in different avatars than the previous "game", thus obliging them to adapt to new challenges and to accept new differences. Like the fact that even someone like Jack Black can have his utility in an adventure between jungles and deserts.
Threats are new, with other exotic animals such as ostriches and mandrills, with a set of rope bridges in constant motion, with sand dunes and snow-capped mountains. Also there is a new villain, Jorgen the brute, played by the imposing Rory McCann, known for being the Mastiff in the Iron Throne.
However, these are superficial novelties, in a sequel that proposes the same recipe as the previous film, where instead the upgrade from boxed game to video game had been a strong and stimulating idea. We could have continued on that path, with further developments by Jumanji, but we preferred to raise the budget and hope that the success of the first film could be replicated by proposing the same stars more or less in the same roles.

Server 1
Server 2
Server 3