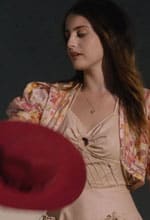 Dream and reality get confused when Mitch, a young projectionist from Los Angeles, is captured by the film he is projecting. She sees herself as the protagonist of the film and falls in love with a mysterious girl who soon disappears. She then starts looking for her in an increasingly dreamlike Los Angeles, meeting up with strange characters including an important movie star of the past.
At the end of the screening, one wonders what happened to Amir Naderi.
Although he himself declares that this film is "the crystallization of my lifelong love for cinema (…) and the culmination of an entire existence dedicated to cinema, love and memories", the outcome It is disconcerting. Where is the strict film director like The Runner and Monte? What was good-natured (or not) made fun of by non-cinephiles who demanded entertainment?
Here we are faced with a sum of rhetoric and deja vu to suggest that the destination is one of the thematic channels of pay TV dedicated to passion, love and broken hearts. The protagonist, in fact, runs in the corridors of a theatrical equipment but otherwise we have the cinema in the cinema, the fascination of the big screen, the identification with a character, the game between reality and fiction. All elements never seen before? You could say no but maybe on other occasions someone was present while another was missing. Here there are all, including the presence in a vintage shop that (with great originality, is called "Paper Moon") of a Jacqueline Bisset that looks like a clone of Valentina Cortese of the good times (with whom she also acted in Night Effect ). The sum of these addends makes us think more than a culmination of an accident in a filmography that deserves respect.

Server 1
Server 2
Server 3