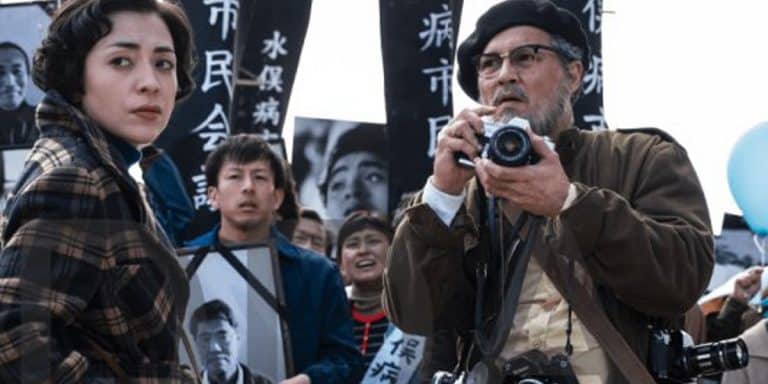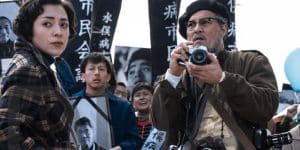 In 1971, the American photographer Eugene Smith, famous for his services on World War II published by Life magazine, learned from translator Aileen of cases of poisoning in the Japanese village of Minamata. Sent by Life director Bob Hayes, Eugene gets in touch with the local fishing community and, with the help of Aileen herself and other activists, documents with her camera malformations and genetic diseases caused by the industrial waste of the chemical giant Chisso. His work and the protests of the people of Minimata will be opposed in every way, but Smith will be able to have his photographs published, thus pushing Chisso to compensate the victims and their families.
After Bad Waters, another Hollywood film that denounces a famous case of environmental pollution: the genre is no longer investigative cinema, but the biopic of a famous figure in American photojournalism.
"Tomoko Is Bathed by Her Mother," the photograph Eugene Smith took in 1971 in the home of a girl with Minamata Syndrome – a kind of modern piety depicting a mother supporting her spastic daughter in a tub – is today considered one of the most important photographic portraits of the '900. In Andrew Levitas' film it comes to an end, at the culmination of Smith's investigative work. And like the rest of the shots that the American photographer took during his stay in Japan, more than reconstructed in his figurative aspects – light, point of view, moment – it is "told".
Despite the origins of the director, who in the past also worked as a painter and sculptor, the film is a classic Hollywood biographical story, which never takes the opportunity to become a reflection on the role of photography in documenting and revealing reality and Storia.
In the interpretation of Johnny Depp, made up with fake gray beard and curly hair, Smith is the most obvious of the cursed antiheroes, obsessed with the memories of what he saw, alcoholic, grumpy, reclusive. Apparently this is a portrait faithful to the original not only in the fake physical appearance: in the early 70's Smith had practically stopped working, he was in a collision with "Life" and the one in Minimata was his last report ; but Levitas and his co-writers David Kessler, Jason Forman and Stephen Deuters don't do much to break out of the commonplace of cinema.

Server 1
Server 2
Server 3