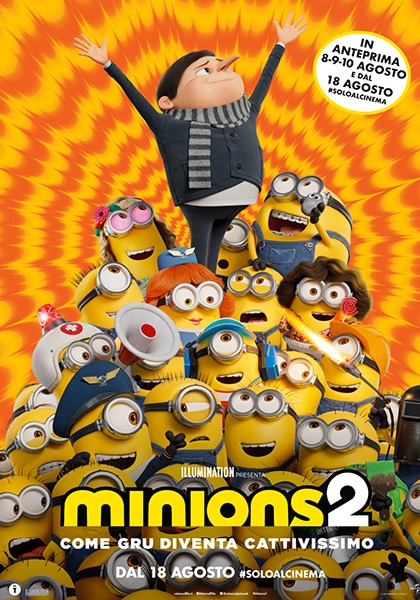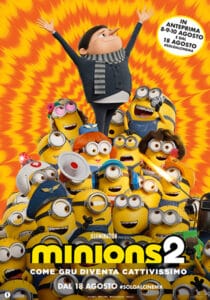 In 1970s Los Angeles, Gru grows into perfidy and dreams of integrating the Vicious Six, a team of super villains who just got rid of their legendary boss. Twelve-year-old under the helmet and in the flared jeans, she participates unsuccessfully in the interview. Mocked for his 'size', too small for such a great ambition, Gru takes his leave by stealing a powerful zodiac stone and earning the title of sworn enemy in the field. Between chases and kidnappings, Gru will be able to count on a loyal army of Minions and an unexpected accomplice, Wild Knuckles, former leader of the Vicious who demands stone and revenge. Once upon a time there was Gru, a teenager with a big nose and in the making like his will to be 'very bad'.
And there were also the Minions, wonderfully babbling yellow creatures, acting out of a paradoxical fascination with villains, to whom they have offered services since the beginning of time.
After serving Scarlet Sterminator, who dreamed of stealing the crown of England (Minions), it's the turn of Gru, a misanthropic "mini-boss", for whom they struggle, engineer and fight relentlessly chasing the principle of absolute fun. Kung fu initiation, which finds the "beast in them", is enough to enter the room and have satisfaction. Because Gru and Illumination can always count on their irresistible energy and that vocation to unwittingly sabotage the world.
Sunny but diabolical, nice but stupid, talkative but unintelligible, totally devoted but incapable, they are the beating heart of Minions 2 – Come Gru becomes very bad, coming-of-age story rooted in the seventies and in a vintage décor, pleasantly exploited by Kyle Balda.
With the complicity of Pierre Coffin (Minions), the director had already betrayed the collective identity of the yellow horde by distinguishing three of them: Kevin, Stuart and Bob. And the trio returns to the fore with that unchanged ability to generate catastrophes and empathy. The success of the film proves him right. The Minions, who originally existed only to spite the background, have reversed roles so effectively that we quickly get bored of Gru or his funky antagonists. The disinterest in the human is the limit and at the same time the great success of the concept.
With small, almost invisible details (the expressive inflections of the voice, the touching variations of the gaze …), and with outbursts of enthusiastic stupidity, the saga has connected the viewer to the point of being unable to interest him or her to the Minions. other. Not even the protagonist, beautifully voiced by Steve Carell in the original version.

Server 1
Server 2
Server 3