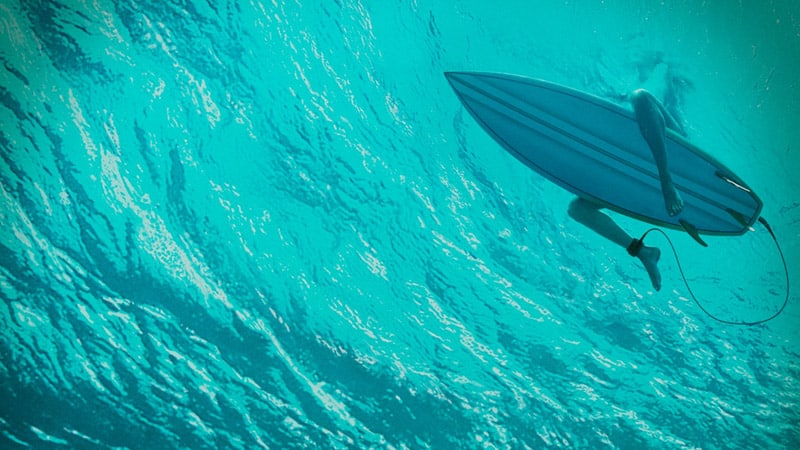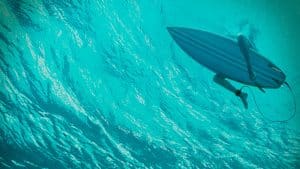 The young university medical student Nancy chose for their holidays a place of the soul, a charming and Mexican lonely beach where his mother, who died recently, loved to go even when she was pregnant with her. The friend who was to accompany her gives her hole, staying, drunk after a good night in the hotel. A local, Carlos, gives her a ride right there, but then she is left alone with his surfboard. Meet a couple of surfers and likes to ride the waves with them for a while '. Then, as he is about to fall in the evening, they go away and Nancy remains entirely alone. In the water, the dolphins frolicking alongside. Then, top it off, he sees a whale dead torn and immediately shows up who killed him: a great white shark. Nancy finds himself fighting for his life in the shallow waters near the shore, before finding precarious refuge on the corpse of the whale and then on a rock outcropping, with the shore (and salvation) to a distance short but seemingly unbridgeable, because of shark relentless patrols the waters waiting for its prey.
From the times of the founder Jaws Steven Spielberg, the so-called shark-movies were so numerous as to create a real subgenre of horror, populated mostly by boring and repetitive film alternating with some genuine weirdness does not necessarily brilliant (like Sharknado). There are exceptions, films that recover the truth, and the hardness of the struggle between man and nature which makes a compelling metaphor for the relationship between civilization and the primordial element embodied by a powerful and relentless in the pursuit of its animal purposes. Paradise Beach – Inside the nightmare, like a few years ago Open Water, is one of these exceptions.
horror of the situation, just as it was also Open Water, the film confronts the protagonist with the inscrutable force of hostile nature represented by the shark. And the situation is presented in an interesting way, credible, with a touch of pure evil (such as intervention drunkard). Between expectations and sudden outbursts of violence, the film maintains a good tension and uses effectively the fascinating natural environment – a paradise that in fact under its golden surface hides a hell – which gives realism to the situation.
The film is played a bit 'on a single note, and why in the long run tends to repetition, but the ingenuity of some developments keeps alive the attention to the final in a well-orchestrated crescendo of frenzied attacks where the special effects are very well the their side, although perhaps lacks the shot of unpredictability wing peeps some sentimental banality of which he would gladly have done without.
The Spaniard Jaume Collet-Serra was noted with horror egregious Orphan and here confirms good visuals and storytelling skills. Blake Lively holds the film virtually alone (together, of course, the shark) and does so with conviction.

Server 1
Server 2
Server 3