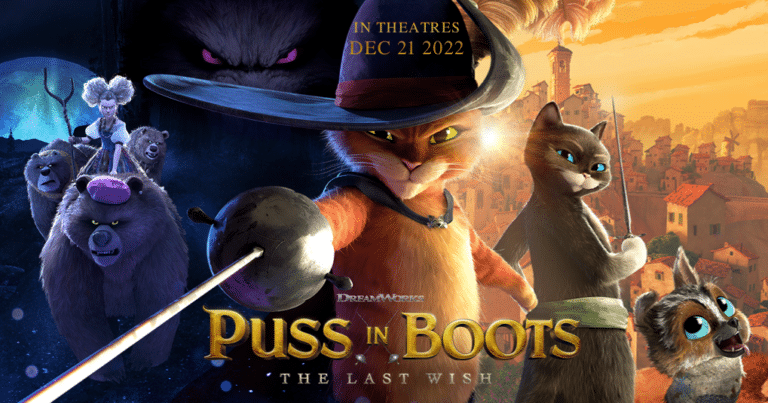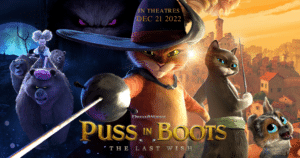 Puss in Boots has just found out that he has used up eight of his nine lives, and has met a Big Bad Wolf who reminds him that, on this round, he too must die. So Cat goes on the hunt for a fallen star in the Dark Forest that can fulfill his greatest wish: to restore the many lost lives. But he's not the only one with a great existential aspiration, there are also Velvet Paws Kitty, Goldilocks and the Three Bears and Jack Horner, a deranged megalomaniac straight out of a Mother Goose nursery rhyme. Alongside the Puss and (his?) Kitty is a microscopic dog disguised as a feline who volunteers for pet therapy and is the only one who is happy with his life as it is. In a race to secure the Wishing Star, all characters will have to reevaluate their priorities.
Puss in Boots 2 – The last wish, a decade after the first spin-off on one of the funniest characters of Shrek (as well as one of the best-known characters of popular fairy tales) performs several daredevil acts.
The first is to enrich the computerized animation with pictorial elements and references to fairy tales illustrated according to traditional drawing techniques, combining this formal care, which partially restores the magic of "handmade", to the frenetic speed which director Joel Crawford he got us used to with The Croods. The second is to face the issue of mortality head on, of which the Big Bad Wolf is a truly frightening incarnation (so much so that a word of caution should be spent for the under 6s). If in traditional fairy tales the confrontation with death was frequent (and therapeutic), in contemporary ones it seems to have been eliminated in favor of the illusion of a superhero's immortality.
The Cat, on the other hand, will have to discover that one life alone is enough, and that it must be used well, setting aside that arrogance that made his character famous in the DreamWorks version. Antonio Banderas dubs himself again in the role (too bad his Italian is now almost devoid of a Spanish accent!), and the work of adapting the dialogues is amazing, with a choice of terms (one for all: "womb cat" ) fits perfectly. This is by far the greatest virtue of Puss in Boots 2: to make you laugh heartily, also thanks to unusual dubbing choices that include the incongruous (but hilarious) dialectal inflection of Goldilocks and the three Bears.
Film buffs will notice the numerous references to Sergio Leone's direction, complete with a "triello" (multiplied by more than three characters), and to Ennio Morricone's spaghetti western scores, complete with the evocative use of the whistle (the composer here is the Brazilian Heitor Pereira), but there are also references to Banderas' Zorro or Pinocchio of the past. In essence, Puss in Boots 2 is a courageous and creative sequel that adds formal care, unexpected interpretative choices and a paraphilosophical moral to its predecessor, pushing it a good step further.

Server 1
Server 2
Server 3