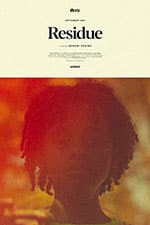 Jay is a young aspiring director who studied at a university in California and, after years of absence, returns to Washington DC, in the neighborhood where he was born and raised, to find friends and tell them in a film. But the neighborhood is unrecognizable, radically transformed by gentrification and almost emptied of its native population: the black community. Forced to sell their homes, persecuted by the police, Jay's old companions in life and games are almost all in prison, or dead, or engaged in drug dealing and crime in order to survive. Of Demetrius, in particular, Jay's best friend, seems to have lost all trace.
Mixing autobiography, denunciation and urban poetry, Merawi Gerima creates a cinematic debut that stays with you, like a disturbing dream, well beyond awakening.
The return along the sidewalks of Q Street, in the Eckington neighborhood (now renamed, as is fashionable to do, NoMa, for North of Massachusetts Avenue) activates in the protagonist a mental process that mixes memories, identity issues, guilt and loneliness. Ostracized by old friends Mike and Delonte for leaving for "the good life" and abandoning them, Jay does not find his place among them, but neither does he find it in the conduct of his mother, who has stopped shouting against injustice, preferring endure them, and at least keep moving, in the name of quiet living.
The result is a sense of alienation that translates into a restless visual and sound fabric, in which the continuous fades become a metaphor for the dissolving of the happy place that was and is no longer, of lost childhood, and of the African American community itself, passed from being an active protagonist of the neighborhood to being ghettoized and poorly tolerated, looked at with distrust and with a finger on the phone, ready to call the police at the first useful pretext.
A small idea, therefore, generational and not too original, and a project that closely laps the documentary, however transformed by Gerima into a painful and powerful vision, thanks to a personal and emotional visual and sound style, at its best in the sequences of the Jay's visit to his "elder brother" Dion in prison and the story of the mystery that surrounds Demetrius, emblem of an unbridgeable void and an impossible solution.

Server 1
Server 2
Server 3