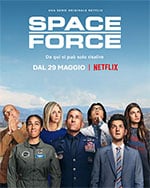 General Mark R. Naird finally receives his fourth star, in a ceremony however hasty and without fanfare. In fact, he must urgently be assigned a new task: the direction of the newly formed Space Force, which is no longer part of the aviation and becomes an autonomous and independent force of the United States armed forces. Transferred to Colorado, with depression of his wife and daughter, he is joined by the scientist Adrian Mallory, convinced that space is more the domain of science than of the military. The two will have to learn to live together to resist budget cuts, espionage attempts, fierce Indian and Chinese competition and also the envy of General Kick Grabaston of aviation, who would like to regain control of space.
The President has a clear goal: to bring Americans back to the moon in a few years and kick off a real conquest of space. What can possibly go wrong?
On paper it looked like a hilarious starting point for a comedy and the pedigree of Steve Carell and Greg Daniels, who had long collaborated on the US version of The Office, promised to spark in Space Force. However, not everything went as it should and if the scientist played by John Malkovich steals every scene in which he is present, it means not only that he is good, but also that there is a fundamental problem. In fact, the general embodied by Steve Carell is not a soldier in one piece, he only acts as one and soon reveals a heart of gold, in a general reduction of conflicts that also dampens comedy.
From the few sharp arrows of the first episode we pass to a general climate of good feelings and aspirations towards the space which is shareable but a little too edifying and from a certain point onwards also triumphalistic and almost propagandistic.
If the mission with the animals of the first episodes is insane, cruel and genuinely comical, it will pass in less than ten episodes from general incompetence to successful missions even with improvised crews. Thus the real enemy becomes China, which however is a totally phantasmic presence, since there is not a single character to represent it. Likewise, the President of the United States never appears and is never named, although the obsession with Twitter and the volcanic stances leave no doubt about the President being talked about. The idea is that the comparison with the bureaucracy of the Pentagon and Washington is enough to give Naird a nemesis, but we are very far from the diabolical nonsense of works such as Comma-22 or the recent Veep.

Server 1
Server 2
Server 3