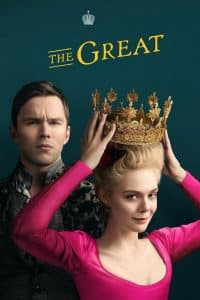 The young Catherine is married to Tsar Peter, son of Peter the Great, and is convinced to start a new luminous era in Russia, bringing with her the ideas of the Enlightenment. However, it is in front of a still medieval court, where the power of the sovereign is absolute and applied without control. A riot of abuse, fornication and executions characterize court life and shatter Caterina's reforming and romantic dreams. Accompanied by a fallen noblewoman and reduced to a servant, the young woman decides that she must change things and plot to get to power, but her inexperience leads her to make several mistakes …
An imaginative rewriting of the youth of Catherine the Great, The Great brings to TV the iconoclastic spirit of the screenwriter of The Favorite, which is unleashed here with many outrageous anachronisms.
The most obvious is the large number of blacks present at the court of the Tsar, but there are jokes that are designed to soothe the modern public and almost senseless in the context of the time. For example, a Swedish ambassador is enchanted by a chorus and is told that it is that of the Chernobyl girls. The ambassador replies that they shine, which makes the modern public immediately think of the radiation of the famous tragedy. And it's just an example: humor is often very black and always pressing, with really acid exchanges especially on the female condition. For example, Caterina asks her maid how she spent the evening and she replies "I avoided rape and you?" to which Caterina answers "the same" and then adds that if anyone ever invents something simpler than buttons, women will be in trouble.
Chilling colds that are conducted with a fast pace like that of Armando Iannucci (in fact the closest thing to The Great after The Favorite, is Dead Stalin is another) and especially with a really amazing comic talent by Elle Fanning .
More common is the role of the cheeky Nicolas Hoult, who was noted in the Skins series and who is unleashed here with comments above the lines of "toxic male". For example, he says of a blind veteran who will no longer be able to enjoy the sight of a beautiful woman, but who, on the other hand, will now also be able to have sex with an ugly woman and be happy. Its Tsar Peter is a very free fusion of Peter II and III and therefore an invention, but it does not matter because The Great declares it in the title of all episodes to be a story only occasionally true.
You enjoy every exaggeration compared to the story, from the playful taste for shock compared to the often plastered and dusty tradition of costume dramas. Tony McNamara's is an Australian's rebellion against the dogmas of British period drama.

Server 1
Server 2
Server 3