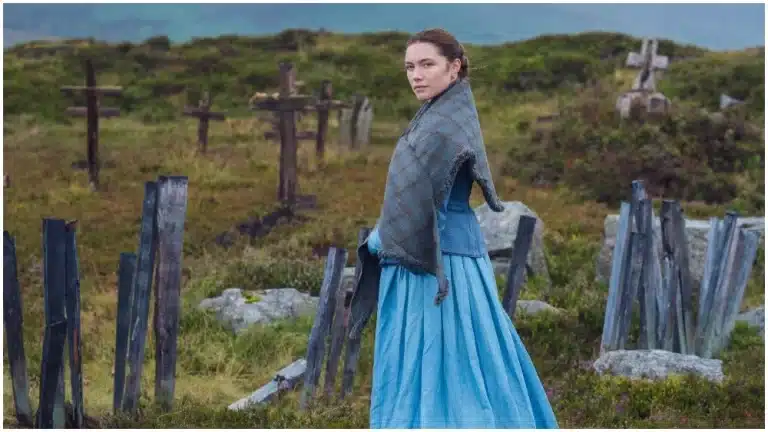 An English war nurse is sent to the Irish Midlands to look after a little girl who hasn't eaten for four months.
We are nothing without stories. It is the message with which Sebastian Lelio chooses to open the film, immediately showing the fiction of the story he is about to tell. A cinematographic fiction: The prodigy opens in the studios, on the set a voice-over warns the audience that the characters in the story he is about to see blindly believe in their own story.
It's a film about the stubbornness of "believing", the new work by the author of Gloria and A Fantastic Woman.
Lelio continues in his powerful female portraits and in the exploration of stratified and profound female psychologies, staging a shocking dualism. On the one hand, blind faith, interpreted by a holy child who fasts so that the soul of her late brother will be spared the pains of hell. On the other hand, the legitimate scientific doubt, to which the always convincing Florence Pugh gives voice and body, in the role of an English war nurse sent specifically to monitor this little girl in the Irish Midlands for a fortnight.
A case has arisen around her, to which the prodigy of the title refers: four months without eating is impossible for anyone, the nurse knows it and must figure out how to prove it. The narrative scaffolding, taken from Emma Donoghue's novel of the same name, is so well structured that in the close confrontation between faith and reason, superstition and skepticism, fanaticism and science, the mystery thickens, rather than unraveling. It is difficult to see a glimmer of truth in the midst of a cloud of religious fundamentalism, in which it seems more convenient to believe in a miraculous child than to identify the prodigy in every ordinary child.
"The world is too hungry", says the voiceover, and in fact the film is set in an ancient world, forced to suffer from hunger and superstition (we are in 1862, just before the Great Famine). Instead, we rely on the legend of the "manna from heaven", the only one that little Anna O'Donnell says she eats, played by an extraordinary Kila Lord Cassidy.

Server 1
Server 2
Server 3