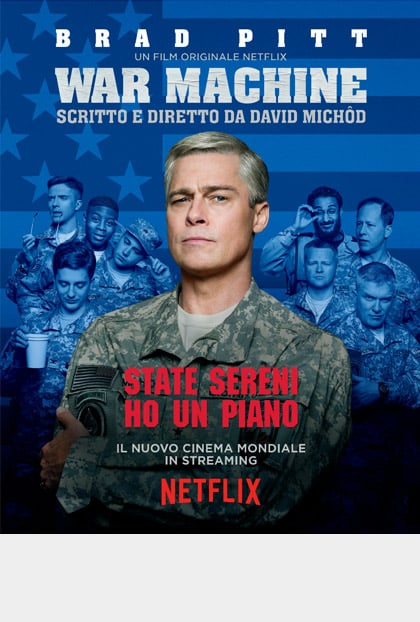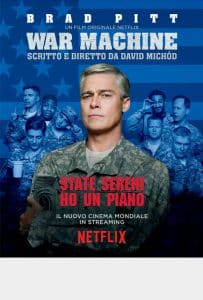 The writer and director David Michôd (Animal Kingdom) makes a current film, partly truth and partly parody, centered on the dizzying rise and subsequent fall of an American general, emphasizing the disquieting impossibility of distinguishing between the tragic and the comic. His story of a surreal war is arrayed against the system and in favor of the soldiers, tracing the portrait of a man with a natural propensity to the command that comes to cross the borders of the absurd. Brad Pitt shrewdly interprets the charismatic and highly decorated general, who succeeded in getting the command of the NATO forces in Afghanistan, and then became a victim of his own arrogance and succumbed to the ruthless reportage of a war journalist. War Machine talks about our debt to the soldiers and questions the ends for which they are used.
War Machine will be available on Netflix from May 26th, 2017.
This original film Netflix is ​​inspired by the book "The Operators: The Wild & Terrifying Inside Story of America's War" by journalist Michael Hastings, who died in 2013. Pitt is joined by an exceptional cast: Emory Cohen, RJ Cyler, Topher Grace, Anthony Michael Hall, Anthony Hayes, John Magaro, Scoot McNairy, Will Poulter, Alan Ruck, Lake Stanfield, Josh Stewart, Meg Tilly, Tilda Swinton and Sir Ben Kingsley. The film is produced by Brad Pitt, Dede Gardner, Jeremy Kleiner, Ted Sarandos and Ian Bryce. James W. Skotchdopole, Pauline Fischer, Sarah Bowen and Sarah Esberg are executive producers.

Server 1
Server 2
Server 3