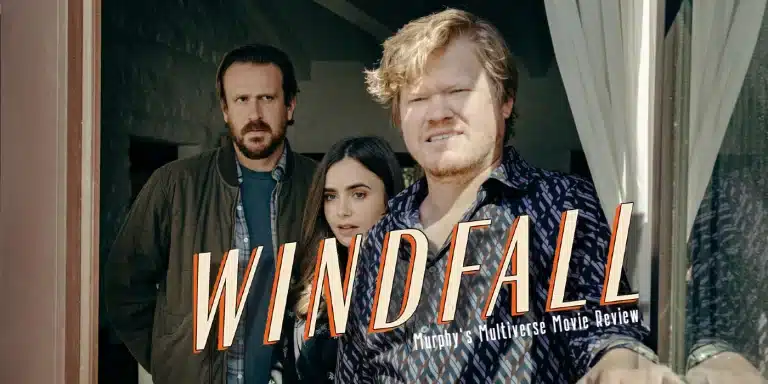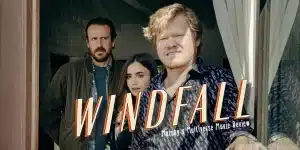 A man is resting in the garden of a large villa in the Californian hills. Shortly after he returns to the house and erases the traces before leaving: in fact, he is not the owner, but a thief who broke in. The sudden return of the owners – an arrogant millionaire who made his fortune by exploiting the economic crisis and his young wife – transforms him into a real criminal: cornered, the man kidnaps the couple and asks for money to free them. While waiting for the agreed money to arrive, tension and doubts increase: who are really the victims? And why did the thief choose that house? And, again, what life awaits all three at the end of 36 hours full of violence always ready to explode?
Produced by the director himself and the three protagonists, Windfall is a sophisticated and free game; a thriller made up of expectations and assumptions rather than action, in which the final explosion arrives as unexpectedly as it is inevitable.
The real protagonist of Windfall is the magnificent house among the Californian orchards (a browse on the internet is enough to understand that it is located in Ojai county, northwest of Los Angeles) where the psychological warfare between three protagonists takes place. A verdant landscape, a garden with rough stone walls and paths, a building example of typically American organic architecture, white, with plastered walls, windows, large spaces. From the very first scene, after the unusually long opening credits above a still image, the camera films it from a distance, with a geometric overview, anticipating the tone of the entire film: a suspension of time, a restless and extraneous presence in the space.
The man protagonist of Windfall, the thief by chance who ends up becoming a kidnapper, has Jason Segel's outsized physique, his good-natured and misfit air, perfect for the role of supporting actor capable of becoming the protagonist, as in The of the heart: it is he himself, distracted and disinterested, who seems to be looking at this house which does not belong to him and in which he will appear as an intruder. The confrontation/clash with the owners, the millionaire businessman Jessie Plemons (usually interpreter of humble figures, here on the contrary braggart and presumptuous) and his wife Lily Collins, who behind the appearance of a classy woman hides a pain that the husband is unable to understand, brings out the progressive inability of each character to adhere to the place he occupies in the world, to the mask he has chosen to wear.
Starting from this illusory element – to which the "outside" trials of the male protagonists contribute above all – the thriller written by Justin Lader and Andrew Kevin Walker (the author of Seven, just to frame things) works on several levels, on space, as mentioned, but also on time (the time of waiting), on the trajectories of the gaze, on the reasons not to be revealed and on the secrets that somehow emerge.

Server 1
Server 2
Server 3